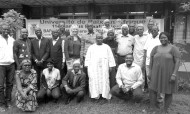 The University of Peace in Africa is a learn and change project, designed and initiated by APTE (Germany) and its local african partners AMI (Rwanda) and CIPCRE (Cameroon). It is yearly organised as a full boarding Campus (concept 'summer university') in a different african country following invitation from local Peace activists and organisations. Its mission is to offer a panafrican forum of active teaching, creative training and new experiencing of methods and tools in Peace work.
UPA aims, year by year, to create and reinforce (new) capacities and courageous attitudes of Peace Builders as genuine catalysts in their respective communities and societies.
We are adressing you
as a multiplicator in peace and reconciliation work,
as working in a specific peace project in your country,
as a leader of your NGO (program) or your governmental organisation,
as managing and supporting (international) co-operation for peace.
We offer you
a particularly interesting and professionally attracting learning experience,
a creative challenge of self-assessment, self-esteem and self-development,
an international Peace trainer team to accompany you,
a panafrican, intercultural setting that allows you to reach beyond short weekend sessions, theoretical seminars or local workshops.
We invite you
to join those more than 200 PEACE BUILDERS trained by UPA in 30 countries,
to PARTICIPATE with your experience, vision, hope and commitment in imacting Social Coherence, Reconciliation and Peace building in your society
to GO FURTHER ON in your Peace commitment, with your (new) learning on our Campus, and to involve yourselve in a CIVIC DIPLOMACY that completes OA-UN-EU interventions for Peace with acting local community leaders
to get in CONTACT with us directly for any further information and to ask for the REGISTRATION
13th CAMPUS in french and english RWANDA 2018
Please click/visit:
>> Call for registration
>> Invitation Poster UPA
or Ask registration at
>> upa@apte-net.de
_________________________
UPABP - Panafrican Union of Peace Builders
The network of 220 Laureates of 15 years' UPA: Peace Builders from 30 countries, in various responsibilities and strategic positions, joining their country GEP-Empathy and Peace Group (It is not how far we have came, but how far we can go)
Please follow us at www.upabp.org
_________________________
PROGRAMM INOVAR - Intervention NOn-Violente Active et Rapide (en Afrique)
Teams of panafrican Peace Builders (from UPA alumni) join local activities of desescalation, violence prevention, conflict management and mediation at selected communities 2010/11 Burundi/RDCongo 2014/16 RCA et Cameroun 2016/18 RCA, Cam, Burundi
Please follow our teams at www.inovarca.org
_________________________
UPA Internat. ATTENTION
to our Laureats/Partners

FRANCE National Award of
HumanRights 2013
UNESCO PrixConfucius 2011
HARUBUNTU Tchad 2010
and IvoryCoast 2009
UNHCR PeacePrice 2006

MEDIA: Radio/Video